I so wanted to like it, so looked forward to using it and I thought, assumed even, it was a given that the iCandy Rasberry would be superb…
It is marketed as an 'urban stroller' and living in London myself I thought it sounded ideal. The iCandy website conjures up a picture by saying the raspberry is for 'Hopping on and off buses, from cafés to cabs, up curbs and through the city, with its agile chassis, ease of fold and innovative, spacious storage capsule, this quick and easy stroller is the smart choice for urban adventures with your newborn or toddler'… But… I don't like it. Not only do I not like it but I absolutely hate it and I can't think of a WORSE place to use it than London. Perhaps their idea of urban and mine don't match but as far as I'm concerned it is NOT for anyone living in a City like the capital.
I have used buggies which are truly fantastic for London living, the Bugaboo Bee for one is superb and as the iCandy Raspberry looks so very similar in design I simply couldn't imagine it would be anything other than the luxury push I first expected it to be. Oh how wrong I was, it feels like the designers thought they would make it LOOK as much like a Bugaboo Bee as possible (which is good) but then nobody bothered to use it for a trial, or if they did then certainly not in a London and urban like setting!
Now I have to point out that this is just my opinion, as a London dweller and regular public transport user in the capital. I have read posts and reports from other bloggers and even seen it receive awards with some publications so I know not everyone feels as I do but I have to be honest and say if I were you I would never, ever buy this buggy! Not only do I not like how it works (or doesn't as the case may be) but I find it wholly unsafe when in use and have had more than one or two incidents which have left my heart fluttering. I have been pushing buggies in London for nearly five years and no other buggy has made me fearful in the way this one does. It has some good points but the mistakes are, in my opinion, very grave and need immediate attention. So… Here goes, the good (like I said there's a bit) and the bad (unfortunately, quite a considerable amount).
Let's start with the positives shall we:
The Raspberry is very attractive looking which might not seem important to some but to me, it is.
It has a big under storage basket with a separate compartment to store important things and the rain cover which when wet can be kept away from anything else in the basket.
The handlebar is easy to extend which is a great feature for tube travel as with the touch of a button it can be lowered to make more space.
Without the footmuff it folds up nice and tightly so that it will stand up out of the way.
The footmuff is excellent (for a smaller baby) and the hood and hand pockets on it are inspired (if only it were bigger).
The swivel bit at bottom of each strap means they don't get as tangled as quickly which is always great with a reluctant passenger.
It has a GREAT recline which is easy to use and very seamless.
The canopy is a brilliant shape (but please see below for why this simply isn't enough).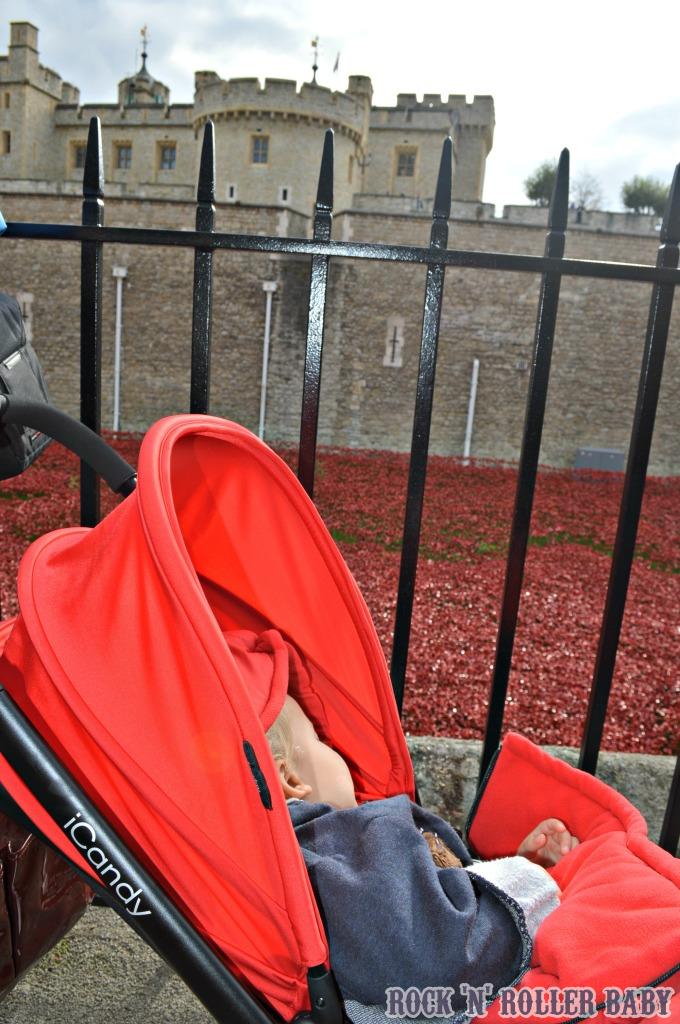 I'm not wildly familiar with iCandy as a brand and the Raspberry is only the second product I have worked with them on. Prior to this I reviewed their Verity changing bag which I love. I absolutely cannot find any faults with it at all as my review shows but this Raspberry, well, here I'll explain why it really is a raspberry as far as I'm concerned. I'm going to be 100% honest in my opinion, I think very often bloggers are accused of not being quite so open and having a little colour to the truth but I'm not like that I'm afraid and when it comes to the best part of £500 (more with all the accessories you need) then I simply cannot do anything other than highly unrecommend it.
So, onto the bad and I've split it into two categories because firstly there are many general problems I have found and secondly, if this is an 'urban stroller' then it needs to deal well with public transport and it certainly does not. It is on public transport that I have found a dangerous side to using it also and I have to strongly advise you not to take it on a tube if you can possibly help it (not so easy when living in urban London I know)! I have other buggies (including the Bee) I am confident to use at stations like 'Bank' with a strong wind that comes down the tunnels but they are all in storage at my Mum's house and I can't get to them until Christmas yet it feels so unsafe at certain stations for me that I have been and bought a new Ergo baby carrier (I couldn't find my old one and had no time to waste looking in the loft for it further as I needed it urgently) because I HAVE to use public transport and there is no way I feel I can trust the Raspberry for most of my journeys.
So here are my general problems with the iCandy Raspberry:
The canopy is not water resistant despite saying it is. The slightest drop of rain makes it wet on the inside and this is not practical as getting the rain cover in and out is simply not possible all the time for light showers. Much like a tent, the slightest knock makes the water come through immediately as soon as then tension is broken yet because it is so flimsy and light all Jimmy wants to do is pull it down over him and bend it about. It is, without doubt, the most thoughtlessly designed canopy I have ever seen and it's such a shame because the shape is SO good and it could have been SO much better – if ONLY they'd actually USED it themselves to see!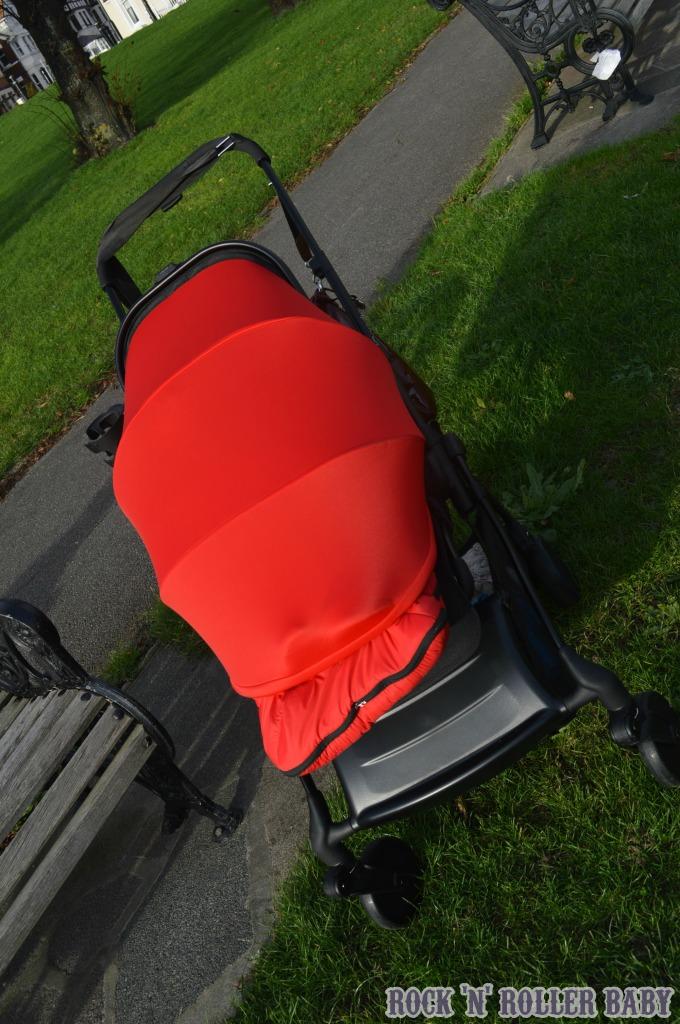 The Raspberry simply isn't big enough and neither is the footmuff. Jimmy is a small child of 2 and a half and he wears age 12-18 month clothes which shows how tiny he is yet the Raspberry seat is almost too small for him. With the footmuff he definitely does not have any room to grow in this stroller yet I would like to think a buggy should take an averagely sized child to 3 and a half – this is WELL off the mark! Most babies weigh what Jimmy does at around a year old (he weighs 25lb) yet I can't see how it would comfortably take a child much further than this weight which should be a big factor when choosing your wheels. The straps are fine (although almost impossible to do up even on the loosest setting when the footmuff is in place) but the seat is just too small and the footmuff needs to be made longer. I love the peaked cap on it and the way they can pop their hands in the pockets but it NEEDS to take an older child (of say 2 and a half – 3 and a half), it just does otherwise what's the point?!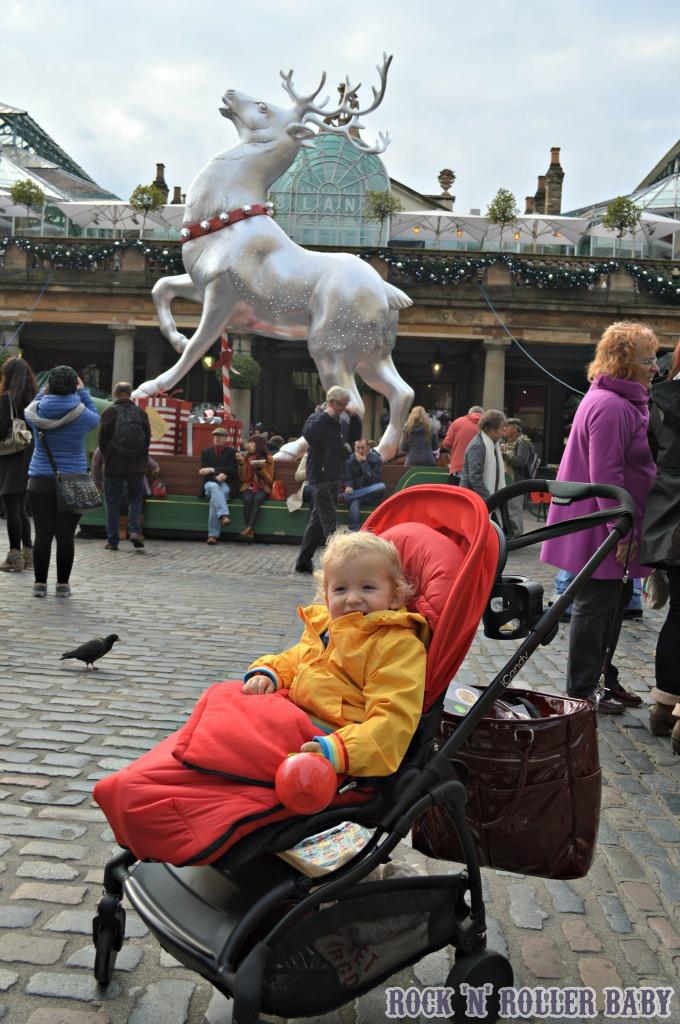 The rain cover itself has a rather bad fit, is very thin and doesn't really do much to ward off strong showers, bit of a pain really.
The paintwork and material in the middle of the handlebars wears off too easily making it look cheap and old very quickly. Everyone knows you're not supposed to hang bag clips on buggies but EVERYONE does because let's face it, we NEED to but it seriously ruins the surface material and within a few uses the foam on the handlebars had cracked on mine too. If I had bought it I would have been very upset by this, I was anyway as I hate things to look untidy but at least I didn't part with any money for it!
The cup holder (IF I have the right clip which it does say so on the box) only fits the chassis on the thickest part of it meaning it is too low down to actually be of any use and either sticks out to the side bumping into things (the slightest knock makes it ping off) or if placed on the inside (which feels more comfortable) you simply cannot recline the chair. It is such a simple thing to have overlooked on design but they absolutely have. I just keep wanting to shout at them 'USE THIS BUGGY AND THEN YOU'LL SEE!'
Now they market the Raspberry as a 'stroller' and it is absolutely no more than that as it has zero suspension making it incredibly difficult to get up and down kerbs (NOT great when in the road)! This goes against everything THEY say but believe me, I have used it and it is a NIGHTMARE, the back wheels get stuck on the tiniest dip in the road and then it won't push forwards at all. I avoid kerbs wherever possible and dips in the road and cracks… This is NOT easy in London!
Back to the footmuff again and When it is in the buggy it does not fold down tightly and you can no longer leave it standing up in the most space economic way meaning you have to lay it on its side. On its side it seems to just fall open even more and ends up taking up so much space you may as well leave it up fully. I was so excited about it standing up on its own when folded (the Bugaboo Bee does not do this and has to lie on its side – although it then does not fall open and stays compact which I'd rather) that I feel really miffed it fails with the footmuff inside it.
The break is so sharp on the underside that it scratches your shoes when you flick it up to unlock it. I now have to remember to bend down and do it so as not to damage the leather on my shoes any more… Such a shame!
It feels very flimsy and rickety and is very unnerving the way the canopy shakes as you walk. It SCREAMS cheap stroller for a holiday and NOT expensive buggy for every day use…
With a child in the buggy (a light and small child as I explained) it somehow is very heavy feeling when lifting, Something to do with the weight distribution I think but after years of lifting buggies up and down stairs (even when 8 months pregnant) with lots of ease, I kind of feel awkward knowing whereabouts to grab this one and it just feels like a bit of a heavy lump when I do.
And here are my problems when using the iCandy on public transport:
Although light weight it is NOT easy to carry, either on your own (the awkward shape) or with help. You have to rely on people helping you on the tube, up and down stairs etc. It's embarrassing then to watch them wince as their hands get dug into by the sharp underside of the middle where they naturally want to grab hold of to help. I have started saying now 'Sorry, it really will hurt your hands so if you could grab the sides instead' but people are in a rush and this annoys them, you see a flicker of irritation cross their brows as they think 'I've offered to help not have a lecture'!
It does not manoeuvre well when getting on and off the tube where you need to be quick. Firstly it does not spin round easily meaning coming off backwards (the easiest and safest way when coming down from a train step) it is awkward, gets in people's way and is also dangerous. Getting ON the train is no easier as it has a problem when you lift the front up to push it up the step on to the train carriage and the back wheels, just like they do in dips in the road, find it hard to go over the little ridges by the yellow line. It actually gets stuck and unless you're quick the doors close before you manage to get on. The other day they closed with the buggy (and Jimmy) half on and half off with me on the platform which was terrifying. I had to rely on the kindness of the person on the train to help prize the doors open again which thankfully he managed.
Lots of stations have high winds whooshing down the tunnells before and after a train comes into the platform and the Raspberry is too flimsy for being on a tube platform like this without a wrist strap. I feel very unsafe doing so and grip on while I stand as close to the wall as possible but it still gets caught in the wind and physically pulls me along with it sometimes. Obviously the break needs to be engaged too but I have had problems with that not working as well… Not having a wrist strap alone makes me think it is NOT suitable for tube travel under any circumstances. I know not every buggy company does have one as standard but this model is, in my opinion, dangerous without.
Now just as with hanging buggy clips on a buggy handlebar, we all know going on an escalator is not recommended with a buggy, however everyone in London also knows that sometimes is is flipping impossible not to! With the Raspberry it feels very dangerous indeed though and my usual confidence disappears as you never know if when you get to the end it might get stuck on the back wheels and not push off it. I am obviously always very careful when using an escalator with a buggy but the Raspberry I just find very worrying and wish I didn't have to.
Another problem happened the other day when I was getting off the tube. I went to push it towards the door after taking the break off and it somehow just randomly put itself into fold down mode. Every time I pushed forward it tried to collapse WITH Jimmy inside it. Luckily again people helped me and we managed to exit the train but it was another very scary experience.
Now, there are other little things I have found annoying too, the break broke on my Raspberry within a couple of weeks and would sometimes work and sometimes not. Again this just made it feel very unsafe. iCandy were, it has to be said, very good about it and they sent me another buggy immediately. I think they thought perhaps I had a rogue bad one and that with the new one I would find I loved it. I love the fact the break now seems to be in working order but all of the rest, sorry to say, is the same. I think this would be an ideal buggy for someone with a tiny baby not wanting it to be used for long in a city where they have smooth pavements and they intend to just nip around the shopping mall with it then return it to the boot of their car. It IS a stroller but it is priced as a high end every day buggy. In my opinion it is absolutely not worth the dough and compared to the Bugaboo Bee which it looks so uncannily like it simply cannot be compared.
The Bee is the best urban buggy I have ever used, the Raspberry is the worst and it's as plain and simple as that. They need to rethink so many things but I just hope the designers actually take it out and use it in a City, hopping on and off buses and in and out of cafes to see that it's actually REALLY hard work and that if you'd parted with the best part of a monkey you'd want something considerably safer, more stable and easier to use…
Like I say, this is just my opinion and you don't have to like it, take it or even read it at all but if there's one thing I know then it's how to use a buggy in an urban setting and the Raspberry just doesn't cut the jam!
I was sent the iCandy Raspberry for the purpose of an honest review.