On Sunday Florence and I were invited to the premiere of Nativity 3 – Dude Where's My Donkey. We were going to take Jimmy with us but at the last minute I decided an afternoon of fun just us girls would be a real treat for the last day of half term and so off we went to Leicester Square wearing our Christmas jumpers as per the dress code.
We were asked to wear Christmas jumpers in support of the Save The Children and their woolly revolution. Every year they hold #XMasJumperDay which this year is 12th December where a little bit of festive fun can make a big difference to a very worth charity. If you want to get involved then think about having a Jumper Jumble, an exciting new way to help raise money for Save the Children! This is how it works, if you're bored of your festive sweater from last year you can host your own Jumper Jumble party and change it while raising money at the same time. The idea is simple, you invite friends, family, colleagues and fellow school pupils to bring along their old, unwanted Christmas jumpers and swap them with one another. These can take place at home, in school or even in the office, on a date of your choosing before Friday 12th December. Everyone who participates is asked to donate £2, to raise funds for Save the Children's vital work in the UK and across the world. Simple, fun and of course means you get a new jumper to boot!
We were very hot in our Christmas jumpers despite it being November but we kept them on and had a brilliant time at the premiere! The movie, obviously, is about Christmas and sees the third instalment of classroom life around the festive period with Mr Poppy, classroom assistant, lunatic and friend! Florence literally laughed from beginning to end and Martin Clunes was a brilliant choice for the third teacher to come into the school.
Some new faces joined old in the classroom (Bob's still there) and we loved the story or Lauren trying to reunite her Daddy, who has lost his memory, to Sophie in New York. All Lauren wants for Christmas is a new Mummy and with the hilarity it also made us cry, I had more than one tear in my eye.
The film is full of music fun and dancing (in flash mob form) and we were very excited to see the scenes on the Southbank by the London Eye where we inadvertently had stumbled across Martin Clunes and the cast during filming one day.
Like I said, Florence giggled all the way through and we loved it as did, by all accounts, the friends we bumped into while we were there. It was lovely to see Carissa from Little Likely Lads and Natalie from Style Me Sunday who brought their little ones too! We're fully supporting Save The Children's #XMasJumperDay and we thoroughly enjoyed Nativity 3 – Dude Where's My Donkey!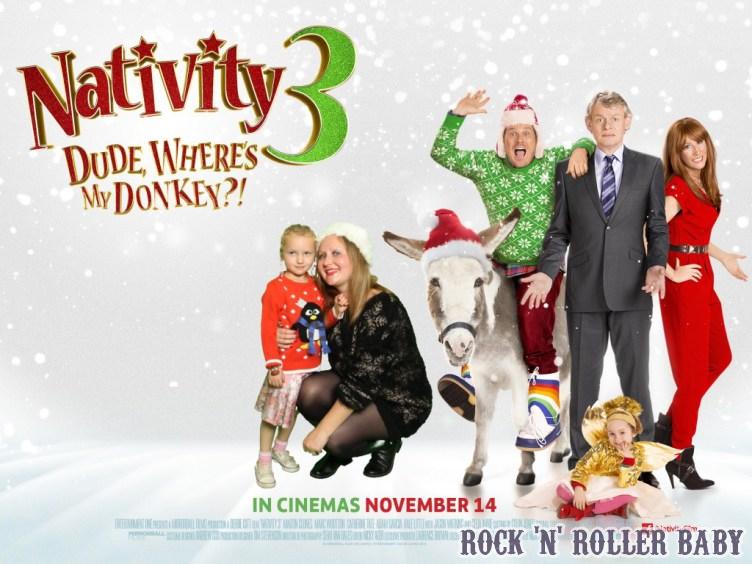 We were invited to the premiere of Nativity 3 – Dude Where's My Donkey.