I don't recall there being such things as sleep positioners when I had Florence and Jimmy. I could be wrong but if they were available then they certainly passed me right on by. But… fast forward to having Raffie and they seem to be all the rage. I literally knew nothing about any of them aside from what I'd read on my friend Karen of N4Mummy's blog but they certainly sounded great and now we, just like Karen, are using the Cocoonababy Nest by Red Castle.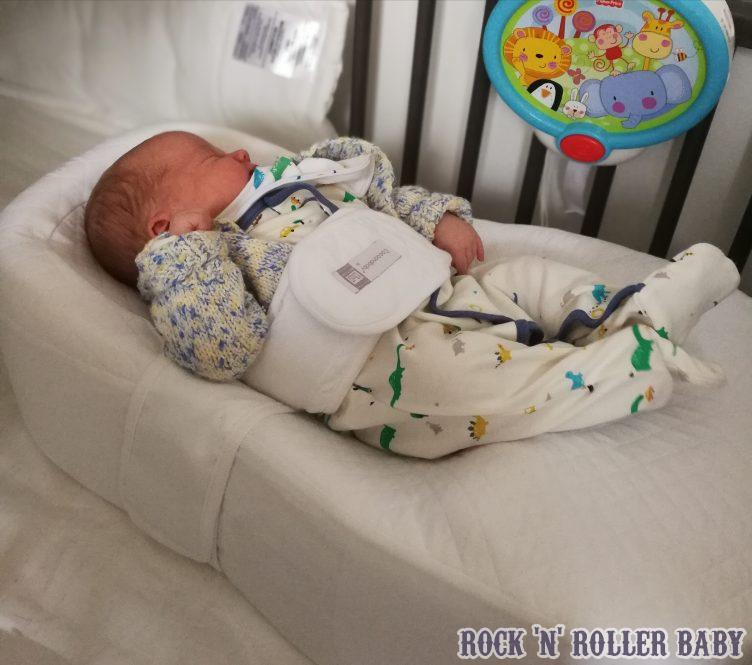 The Cocoonababy comes with a fitted sheet and a waterproof cover underneath it while on the top it has a band to hold baby in place. This is what they say:
Welcoming baby gently into the world, providing him with a comforting, reassuring, womb-like space, the cocoonababy helps the newborn make the transition to the outside world as smooth as possible.

The semi-foetal position, in which baby is as if contained and in a slightly curved posture, soothes and reassures him

It helps limit the onset of problems which could affect him during his first few months and encourages all-round development.

Improve the quality and length of sleep, reduce waking with a start or moro reflex.limit reflux problems.minimize the risk of flat head.encourage all-round development

For use from birth (from 2.8 kg / 6lb 2.7oz) and until the child starts trying to turn over or to adopt a different position (approx. 3-4 months).
Now at £130 this is not an inexpensive product and when you think that it is only for use until your baby can turn over (they say around the 3-4 month mark but my older two could both roll over by 10 weeks) that's quite an outlay for such a short space of time. However… I think the product really does help with sleep and having had two babies in the past who haven't been keen on going in a cot or a crib this certainly is encouraging Raffie to do so. I would say he still prefers to be in my arms but he absolutely WILL go in the Cocoonababy for much longer periods of time than my other two ever wanted to be IN something rather than be held and it's easy to see why. The Cocoonababy is really comfy looking for him and holds him in a position which I think makes him feel safe and secure.
Imagine coming out of a lovely womb and then being placed in a Moses basket… Doesn't sound very welcoming does it? And this, I think, just gives a little bit more comfort to the whole process. It has a supportive look about it and keeps him with his head and legs a bit elevated which makes him feel more secure than just being laid flat.
Honestly we are not using it much in the cot, just if I am in his room sorting out clothing and I need to lay him down but we have used it in his crib and also just in the evenings next to us in the living room while we watch television and relax. I like to be able to see him and I can see that he is very comfortable in this!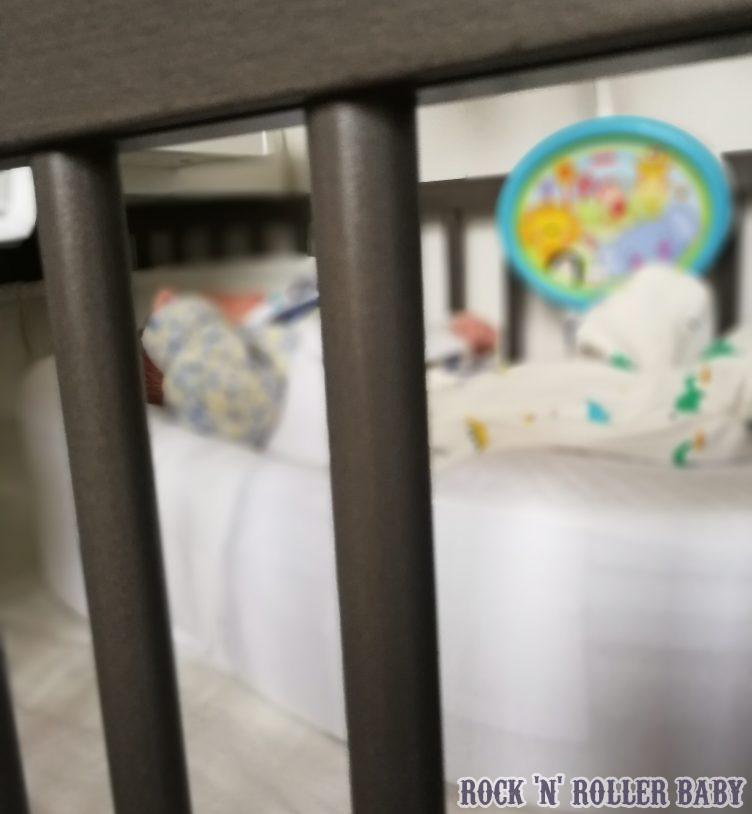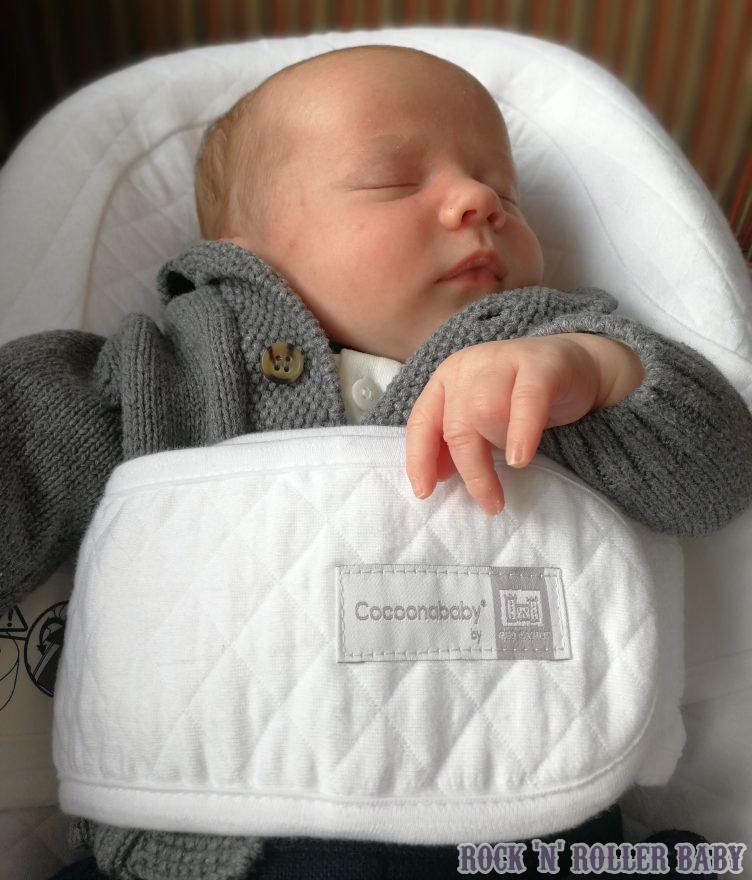 Everyone who sees it says 'I wish I could have a bed like that'! It really does look very inviting and with a sort of springy feel to it I have to agree that I myself would like one too – wouldn't that be great!
It really does look so comfortable and Raffie certainly seems to like it!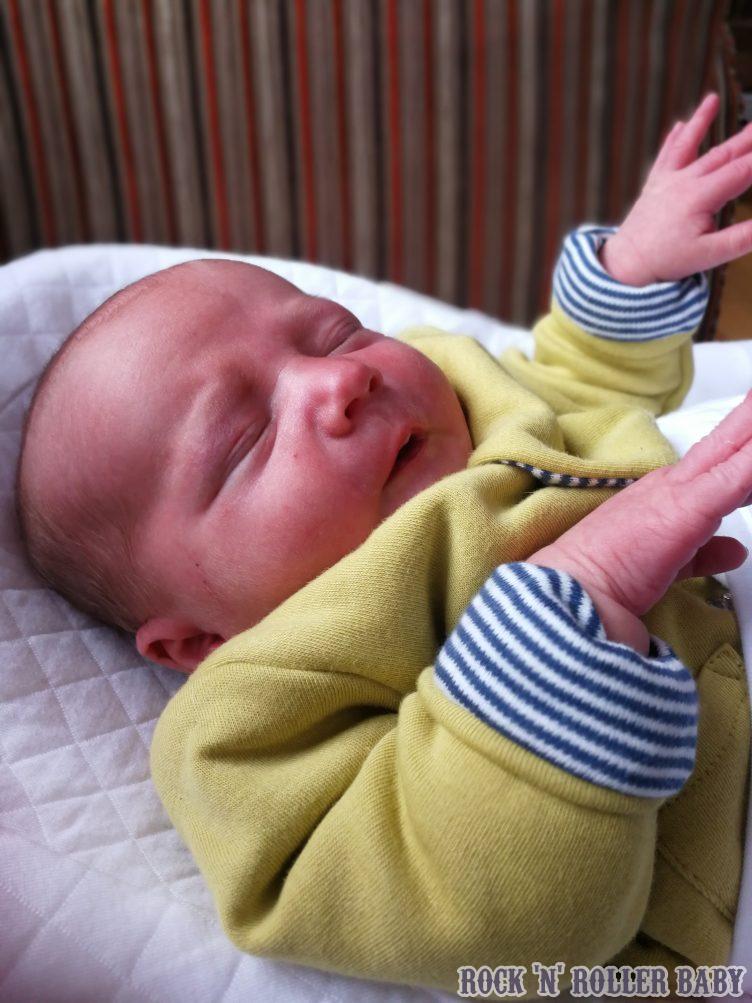 I like to co-sleep with my children (or rather they seem to like to co-sleep with me) which I know we don't recommend in the UK but… Ideally I would like to use the Cocoonababy in my bed with us because it is raised and feels like it would be the perfect product for this. Obviously all the advice would be not to do this… So I won't, but it would be great if they could make something like this which COULD be recommended to use in the middle of your own bed – it could be wonderful middle ground for co-sleeping I feel! For now though we will just keep using it as we are, in the crib and the cot and just by us in the living room… (Please note Cocoonababy say this product is to be used in the crib or cot where the sides are at least 50cm higher than the top of the Cocoonababy). I genuinely think this is a product worth investing in!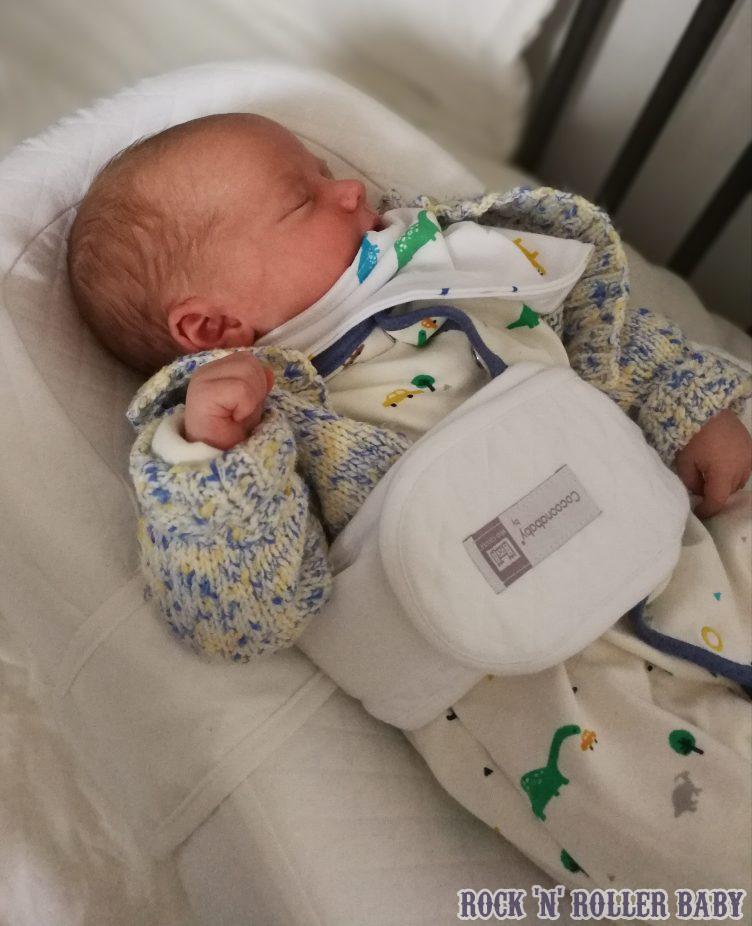 I think it has to be mentioned that there has been talk of the safety surrounding sleep positioners recently and the Cocoonababy Nest was briefly removed from the shelves of John Lewis while sleep positioners in general were investigated following information about other products in the US. The Cocoonababy is back on sale in John Lewis and the retailer have provided me with a statement:
Following advice published by the FDA in the US and in line with other UK retailers, John Lewis took the decision to withdraw from sale products that fell into scope of sleep positioners. 
As a precaution John Lewis suspended the Red Castle Cocoonababy nest from sale, while we sought advice from industry experts and reassurance from Red Castle.

After a full and thorough investigation, we are satisfied with the safety of this product and have placed the Red Castle Cocoonababy nest back on sale.
This is a collaboration.