Ok, so I won't lie to you, I don't pride myself on the baking front. In fact, I'm pretty rubbish at it! I can make good things but it always takes an awful lot of effort and seems to take an inordinate amount of time too! Let's just say, I'm sometimes pleased with the results, pleased enough to share like today, but I don't think Mary Berry has anything to worry about!
After attending a BKD class with Florence the week before last I was inspired to make iced biscuits for the teachers this Easter. The thing is, whenever I make biscuits they come out wrong. They usually taste ok but they spread in the oven and the shapes look like splodges by the end of cooking. Adelle, founder of BKD gave me some tips and very kindly agreed to share her recipe with me. She said the absolute key is to not use baking powder and to refrigerate the dough for an hour once made and then again after cutting but before putting in the oven!
I wasn't taking any chances and having made my dough as per Adelle's recipe I bypassed the fridge and put the ball of dough in the freezer for an hour. I then rolled it out, cut my shapes and back they went in the freezer for another half an hour. I'm going to tell you now, so that you don't worry I messed it ALL up when you read the next bit, that it all worked and Adelle is a genius! Look!
My biscuits worked!
But obviously this is me. And I didn't get there easily… We had a few kitchen disasters before I got to the 'made biscuit' stage or even attempted the icing!
Firstly, while getting the vanilla essence out of the cupboard I knocked a jar of Reggae, Reggae sauce off the shelf. I caught it deftly and just as I was about to congratulate myself, Reggae, Reggae sauce in one hand and vanilla essence in the other… The jar of Bovril *jumped, FLEW, completely of its own accord off the shelf and smashed right on top of my gorgeous Maison Cash mixing bowl. Well it was goodbye to that then!
Next, while boiling potatoes for dinner at the same time as baking the cookies (I'm a multi-tasker obviously), I managed to set the hob alight when I took one batch out of the oven and placed them on the hob. The fire from the ring under the saucepan of potatoes caught the parchment paper (my last bit of it) on the baking tray and up went that whole batch. All I had to hand was a small children's bowl from Ikea which I repeatedly filled up with water and threw over the fire, biscuits and hob… All that was left was some soggy dough and lots of bits of burned parchment paper which stuck to the hob…
And they say these things come in threes don't they… Well, still multi-tasking, I had the frying pan on (dinner again) and I left the second mixing bowl (plastic) next to it! I wasn't content with one fire and was trying to start another (this IS a girl who got ONE badge at Brownies, safety in the home would you believe!). I luckily didn't get any more flames but did completely ruin, via the form of melting, my other mixing bowl… Oh well!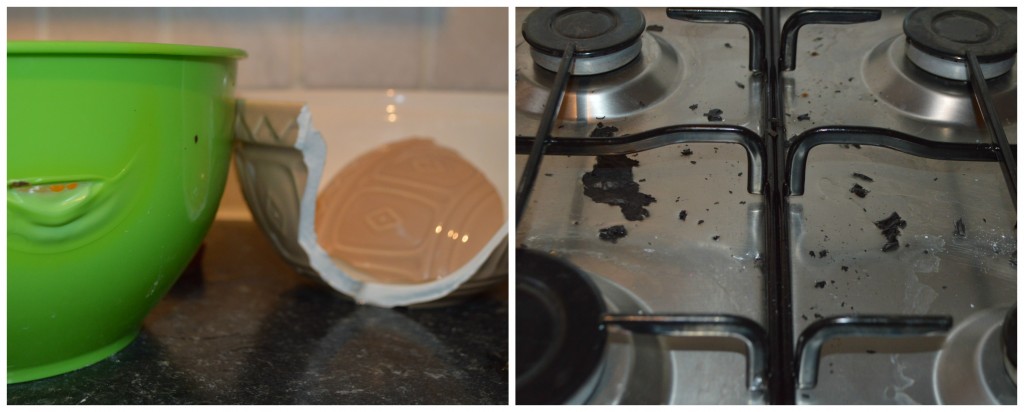 They do say these things come in threes!
Anyway, somehow I eventually managed to make the correct amount of biscuits, all cooked with no spreading. I even managed to ice them, decorate them and bag them up for the teachers with a little chocolate egg and done up with a festive peg bought in a pack from 99p Stores.
I had a back up plan too of course. You see, I'd not expected the cookies to work (I'm sure after reading the above and realising this is all pretty normal for me you understand why)! But this means the teacher's get two presents instead of one making me look super generous and for once, one of those parents who can just effortlessly whip up something which looks amazing (and tastes fab, cheers Adelle)! Unless they read this blog of course!
The second present was a couple of big bunches of daffodils split up and retied using rainbow ribbon saved from the tags of Little Bird by Mothercare clothes! Thrifty! And then accessorised with a felt bunny which came in the same pack as the pegs!
The results!
I made 9 bags of biscuits with 9 mini bunches of flowers. The ingredients, chocolate eggs and flowers came from the supermarket, the candy striped paper bags were left over from Jimmy's last birthday party, the ribbons were recycled and the embellishments and pegs came from 99p Stores. Each present cost me about £1.10! Now that's a bargain!
It was a lot of work (for me, for the likes of Adelle it probably really isn't) but I enjoyed it and I'm super pleased with the results! I feel inspired to do more baking and am definitely going to do Teddy Bear biscuits for Jimmy's Teddy Bear's Picnic Party coming up! I might just have to stock up on mixing bowls first!
*In confession, I may have knocked the jar of Bovril off with my arm but I'm still claiming it COULD have been a rare case of Bovril jars having their own minds.
I have not been paid to write this post.