The series 'Back IN Time For Dinner' which was on the BBC finished last week but I absolutely loved every single episode. It saw a real family live through the decades of food from the fifties to present day and each week, in their own home, they entered the era in complete authenticity with clothes, toys and even home decoration to match the decade. I absolutely loved the fifties, not the food of course as that was really bland and boring, but the home decor which saw Formica tables in the kitchen and checked flooring. It's so dated of course but there is something terribly chic about that shabby and maybe it's the East London in me but I totally adore it!
They have a fifties style kitchen in the Oliver Jeffers exhibition at the Discover Story Center in Stratford and there's something extremely homely about it. It's really like taking a step right into the pages of his children's books and also like taking a step back in time. I went with a friend recently who said it is, actually, just like her own kitchen and that she's tried to make it as fifties looking as possible; she doesn't even have a microwave and I love that. They weren't necessarily kitchens of comfort in the sense that they were great places to sit and chat but they were absolutely for the comfort you get from home cooking, family life and really and truly, the first time decoration was invited into the hub of the home where women spent most of their time in that decade.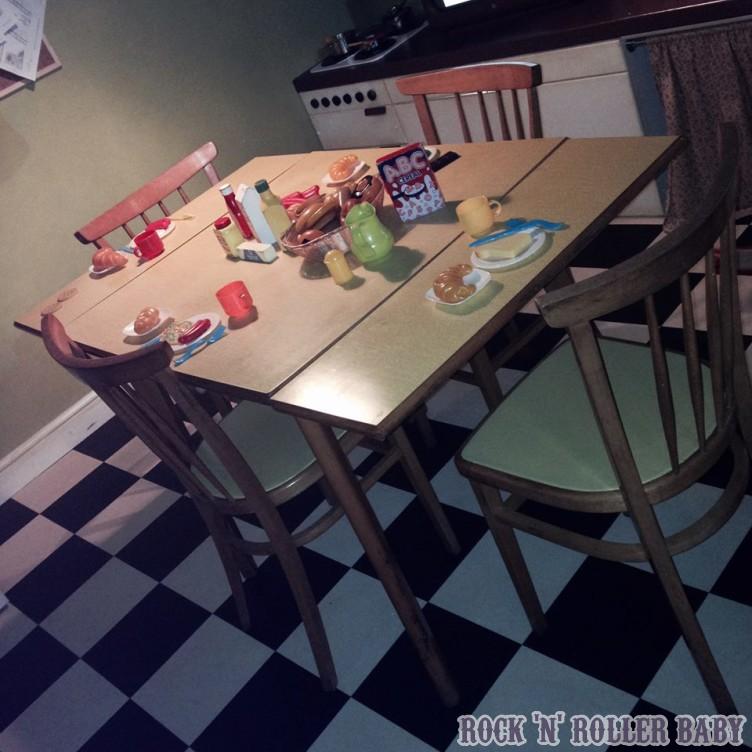 I can't wait to have a bigger house where I can decorate and choose things like my friend has done. I've got to a point with my flat now where I just want everything white and clean looking because it's far too small for anything else and I'm sick of that. When we moved in as just a couple I put my stamp on the flat with a feature wall in the living room and lots of fussy bits about the place – that SO wouldn't work now. I don't really know if it worked then but I guess it WAS nearly a decade ago and that's the thing about fashions… They change.
'Back In Time For Dinner' was so much fun just looking at the decor of the house each week because the design team had been completely thorough and added perfect detailing to suit each time they moved on a decade. The sixties and seventies were bright, full of loud and bold patterns and the eighties reminded me of my own house when I was growing up. My poor Mum had to put up with a navy bathroom suite for a good few years as it was there when we moved in and she couldn't afford to change it right away. It seems bonkers now that someone might choose a navy bathroom suite and even stranger that others might have chosen brown. My Grandma and Grandpa's house had just that and it was AWFUL! She finally got her WHITE bathroom suite after a few years and I remember thinking it was the height of sophistication, of course that was years ago now yet still we call it the 'new bathroom'. I expect to anyone looking in and they would think it was a bit dated and in need of an update!
It's funny looking back at what we think is acceptable on houses in any given era as it does change so dramatically and very quickly. Just look at all the stone cladding on houses in suburban areas, someone at some point, thought THAT looked good, I wonder if most people would know which design fashion goes with which era? Carpetright actually have a competition at the moment where if you can match decades to interior design mood boards you could win a £200 hamper of skin care goodies from Elizabeth Arden – Just the ticket for turning back the decades on your own 'look' (I love the 8 Hour Cream)! You can enter the competition with Carpetright and test your interior design knowledge. I just entered and it's super quick and fun. My favourite mood board is the first one. What do you reckon, A) 20's, B) 90's or C) 2000's? Don't tell me, make sure you go and tell Carpetright and then you could be in with a chance of winning!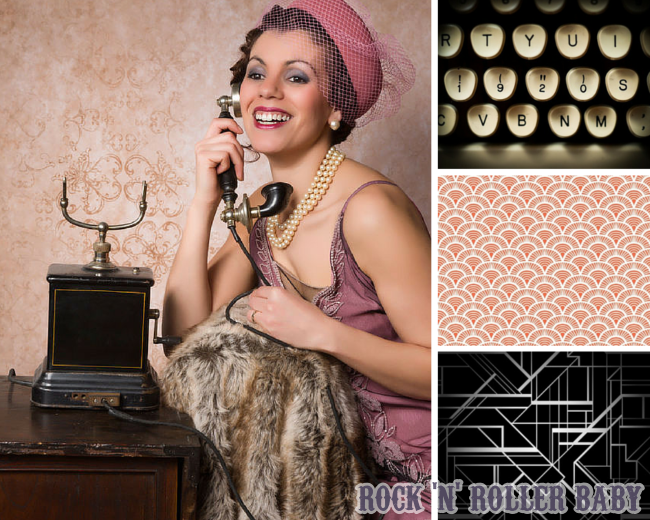 In association with Carpetright.