A few months ago my Mum decided to book us all on a family holiday for June. We had been looking forward to revisiting the villa complex that we regularly holiday at in Portugal and were a little bit gutted to find that this year, they are closed for a refurb. We had a quick think and decided that we really did want to go away somewhere anyway and didn't want to wait until next year for our regular haunt so opted for something very different.
James Villas in fact! I've heard very good things about them and as we were only going for a week, a stop gap until our fave place is open again, we thought let's just try it. They organise the whole caboodle from flights, taxes and insurance right down to the car hire so it sounded very easy and that was definitely welcome.
Our criteria:
We needed a villa big enough for the children, my husband, my Mama and myself.
We wanted a short flight from Norwich where we live.
We wanted an easy and inexpensive car hire.
I spoke with James Villas on line using their social media handles @JamesVillasUK on Twitter and @JamesVillas on Instagram. I asked lots of questions which they were happy to answer and then finally we rang and booked the Villa Son March Petit in Pollenca, Mallorca which is in the 'simply' range of villas, I assume this is the lowest grade of their villas judging by the names they have given each grade. It looked like it had everything we required and as it was on a deal where they had bunched in car hire, insurance, flights… everything, we decided to just go for it! The price for the lot of us for a week came in at around the £2600 mark.
Now before I go any further with this review I need to start by saying that we had the most tremendous time! We loved it and it really opened our eyes to a different type of holiday. A completely private holiday with a pool that no one else can use and somewhere which really felt like ours (if only)! It really was a total bliss of a holiday and if that's the 'Simply' range of villas I'd feel like a movie star if we stayed in one of their 'Ultimate' villas I'm sure. It really was absolutely delightful… But read on for the details do…
The villa was beautiful and plenty big enough for us. We had so much more room than you would ever achieve in a hotel room (or three) and indeed more so than in the villa complex we usually book to visit in Portugal. There was plenty of outdoor space as well as inside the villa and with our lush green grounds came a designated BBQ area away from the house just enough but not too much, two patio areas both with shaded points and of course that gorgeous pool side splendour.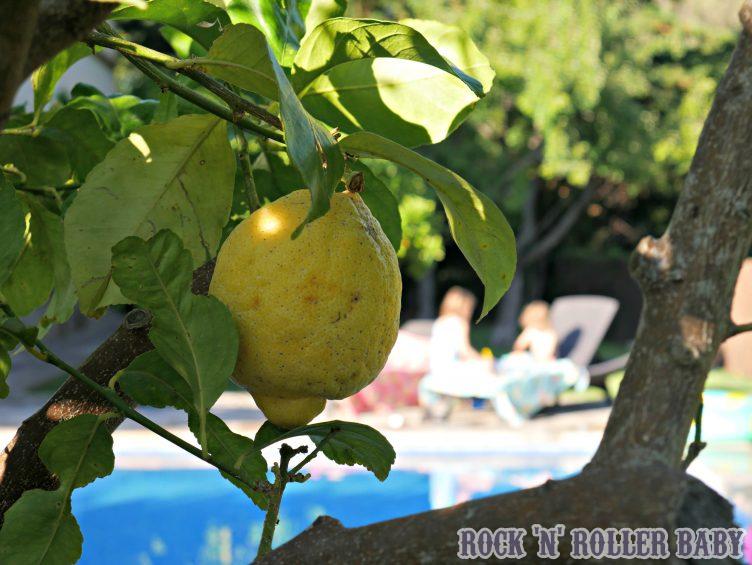 The furniture outside was gorgeous (much nicer than shown in the pictures on the James Villas website) and a world away from the likes of a hotel pool – definitely something we would furnish our own place with (again, if only) and we had everything we needed inside the villa too. There were a few negative issues which I will detail further down in the review but all the things which James Villas got right more than made up for the majority of them. The car hire was the only sticking point but let's not dwell on the less than impressive yet when there is SO much to say in the 'brilliant' camp!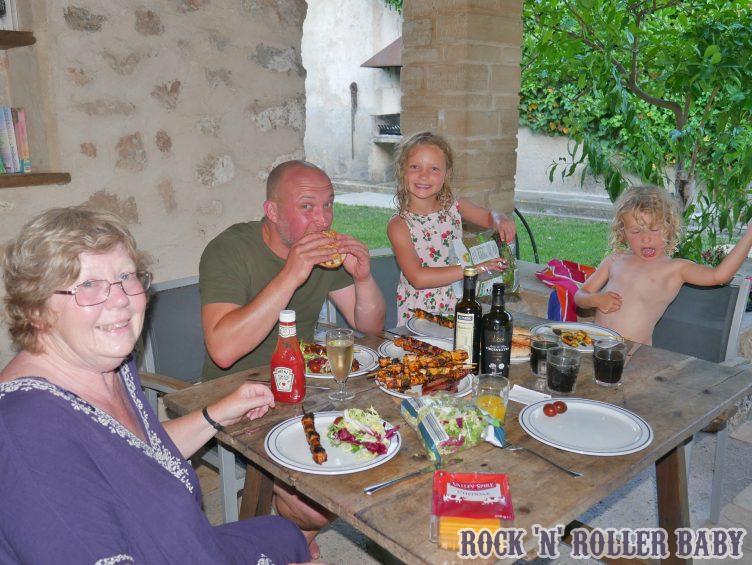 The rooms were big and had lots of little touches which were appreciated like a hair dryer, mirrors in the right places, books on the shelves left by previous guests, all mod cons in the kitchen… It was basically a home from home and although you may not feel like using a washing machine while you were away I found it very helpful, especially with children. We packed very little knowing there was a machine in the villa and it meant that we could absolutely do that comfortably as well as come home with most of our washing done because of course clothes dry in minutes in the Majorcan sunshine. I just popped it all in the night before we left and we were done!
Our rep came to see us upon our request and was extremely knowledgeable and helpful but if you'd rather not see yours while you are there then the need is not great. We had detailed directions which took us to the villa with no problems and key pick up was also very smooth with them having been left in a coded box. And then, inside the villa we had all the information we could have wished for. We felt very looked after and very comfortable while staying in the Son March Petit so it's no wonder that we really and truly fell in love with it, what a gorgeous spot!
A short drive (less than they state on the James Villas website) and you are in the old town of Pollensa with lovely restaurants for jovial al fresco dining in a pleasingly non touristy feel. It was an exciting place to be but absolutely made me feel part of Pollensa rather than a tourist which is just what we like and we had some fantastic meals there too!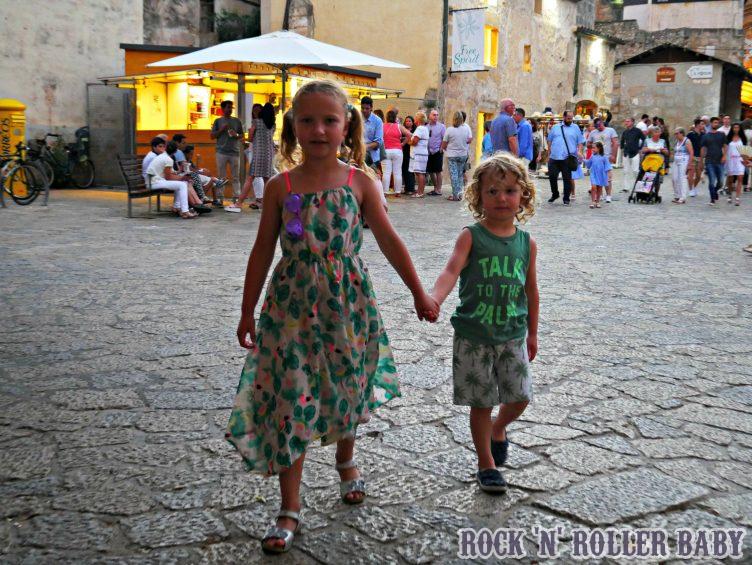 A few minutes further on and the beach at the port is situated with a long stretch of sand and crystal clear waters. It was a little bit geared up for tourists but nothing like Alcudia or Magaluf and quiet enough to feel peaceful and calm. We loved it and couldn't fault the resort for a family at all!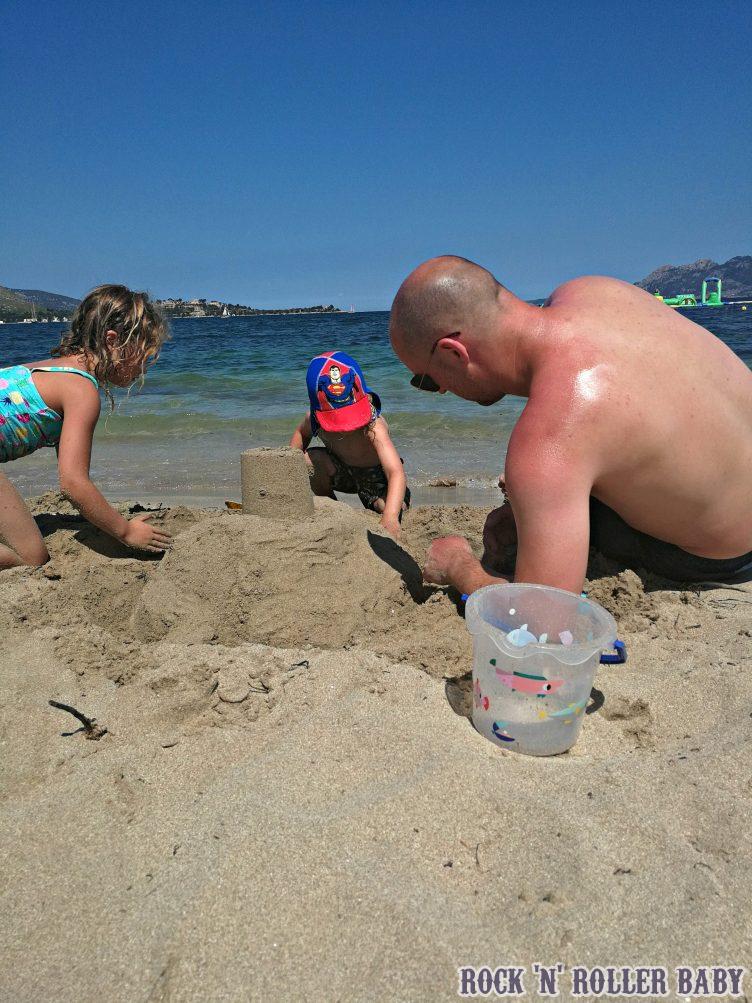 There's lots to do for families in Majorca and water parks are just one attraction in a long list of many. We went to the Hidro Park in Alcudia which was lots of fun. It WAS very expensive and rather a rip off in lots of areas like the fact you HAVE to pay for a sun bed after having already paid a substantial entry fee but we had a fantastic time and would say it's worth a visit. It cost the four of us (my Mum didn't go) about £90 with the hire of beds and a locker and we saved money by taking our own packed lunch. The food did NOT look good and again was rather pricey.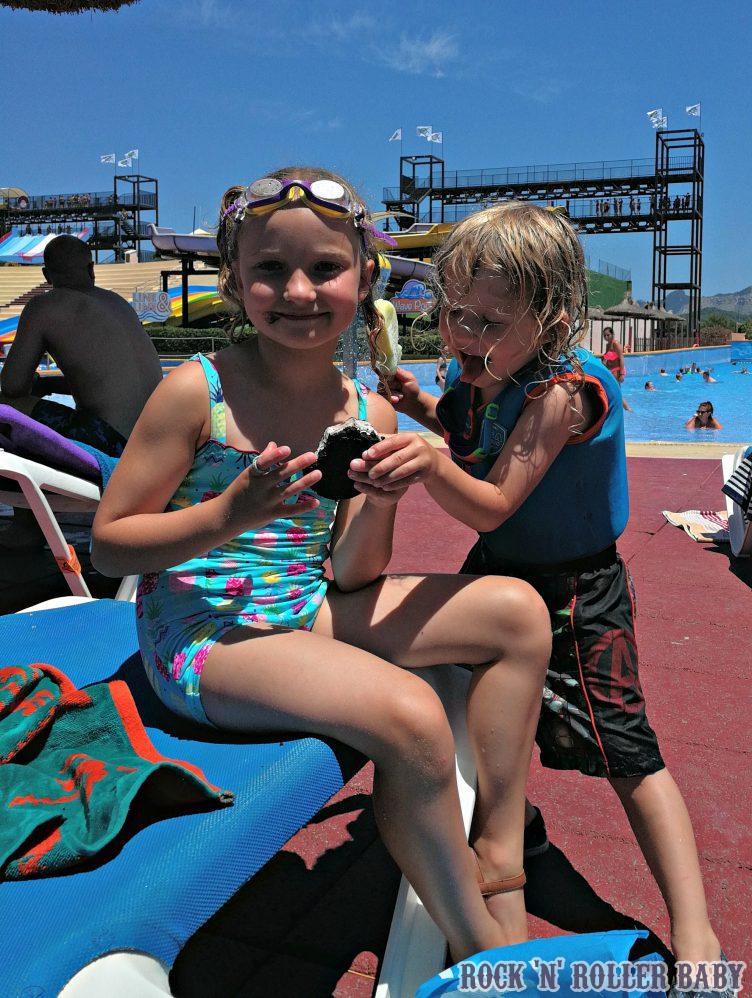 Back to our villa and the peaceful sounds of just the countryside, a few goat bells and some birds chirruping made this our preferred place to be all week – it's lovely to sight see and be busy but sometimes just a relax and a play in the pool is all you need. The children revelled in the delights of having a pool just for us and we enjoyed playing with them there and being able to just sit on the side and watch them. No rabble, no other kids screaming, no road noise or anything else to disturb the reverie… Bliss! The Villa Son March Petit is surrounded by farm land meaning it offers this secluded feel while at the same time not being far from restaurants, beaches and supermarkets. The track to get to the villa is rather bumpy and narrow and driving on the other side of the road was an experience but so worth doing for both the freedom and solitude it can offer you. What a gorgeous holiday!
Check out my YouTube channel to see a tour of our James Villa and a little bit more about the fun we had on holiday!
Now… On to the things that didn't quite meet our expectations.
While booking I'd mainly asked questions about the car hire and thought I'd left no stone unturned when it came to that. We have never driven on the other side of the road before and it was the element I was most concerned about so I was quite specific in my questions about where we picked up, when, how and what the deal was with regards to everything car related.
I was satisfied on all levels and a few months later we were reminded by email to pay the balance, reminded by email to input passport details and sent our confirmation documents just before travel.
As time got closer to travel I became nervous about some of the latest reviews on the James Villas site about our particular villa; I phoned to query the concerns and actually wasn't terribly satisfied with the response. The woman I spoke to told me that 'people only ever write reviews when they want to moan' and told me that I shouldn't worry.
Not terribly comforting because I myself write reviews regardless of being moany and when I Tweeted them such I WAS given the reassurance I wanted by James Villas which was a relief. The social side of their team assured me that they do indeed take their reviews very seriously so that was good to know too. It made me feel better although they didn't go into detail about my particular concerns but hey ho, we would find out soon enough.
The review points from customer feedback on the James Villas site that I had been most worried about were:
Ant infestations in the villa
The villa parking space not being suitable for a bigger car
The villa not being suitable for young children
I had also been a little bit worried about the travel documents stating that we would need a few Euros to get our hire car out of the car park. This had not been mentioned to me upon booking and in all honestly saying 'a few' was of really no help whatsoever. A 'few' turned out to be FOUR (to begin with) for us but it also needs to be noted that getting the hire car out of the airport took us about 15 minutes meaning we were then charged another two euros at the gate (taking getting out of Majorca airport up to 6 euros for doing nothing more than arriving on holiday). 15 minutes isn't long to familiarise yourself with a new car and get used to gears on the 'wrong' side as well as packing it up with the cases etc and I feel six euros to just leave the airport was a bit much not to mention very stressful when met at the exit gate with Spanish words telling you it will not open! I was not impressed especially as it had also taken us over an hour to get to the front of the queue with the car hire place, a firm I had not heard of and one which seemed to work much, much slower than all the other firms whose customers were whizzing through.
Bit… If I had been unimpressed with the wait for the car and the exit process it has to be said that I was FAR less impressed by the fact the man at the car hire place told us the insurance James Villas had sold us as being perfectly adequate wasn't in fact worth the paper it was written on – he told us that James Villas often do this and they really need to be recommending a more comprehensive policy, especially for the resort we were staying in. He advised our destination was very hard work for a car and could be terribly wearing on tires, windows and body work which we were NOT covered for with the policy James Villas assured me would be enough. He recommended we spend another £50 upping the policy which we felt we had no option but to do. Maybe it was a hard sell but… After now seeing our villa AND the area, I totally agree, a more comprehensive insurance was necessary and I think James Villas need to advise their customers of this from the off.
And on to those specific worry points from the previous reviews.
Yes there were ants and I did mention this to the rep and to their social team who took three days to bring us ant powder (the solution) which I thought could have been quicker. But… How can you stop ants from coming into an old farmhouse in the Majorcan countryside? I think, like the lizard in a bedroom and the swift which flew in the bathroom window, it's just one of those things. Annoying that ALL food had to be kept in the fridge (including crisps) so as not to encourage them but definitely liveable with and just one of those things when you want an in keeping old style farm house.
I agree, the parking space is very tight for a bigger car, we had a Berlingo and it was incredibly tricky to park even without the neighbours car taking up half the space but with it there all week (apparently she doesn't normally park there but had been poorly – I think we can make an exception for that) we felt it was easier to park on the road a short walk away. We did park in the designated space a few times but I'd never have attempted it in the dark (even in a tiny car) as it was extremely tight and it was far, far easier to park on the road and walk over a little bridge then up the side of the house (take a torch if you do this as it's flipping DARK at night)!
This point about the villa not being suitable for children is ridiculous in my opinion. It was perfect for our children who are 7 and 5 and I would not hesitate in the slightest taking any aged child. I think the person who made this statement must be off their rocker, the Villa Son March Petit in my opinion is the antithesis of not being suitable for children!
Other little points I would make are little niggles really.
I didn't really think the welcome packs were worth it. They included a bottle of wine and some tea bags as well as ham, milk and cheese etc which would be handy if you arrived at night but we didn't. We arrived well ahead of the check in time at 4pm (which is very late in my opinion and extremely annoying especially as you have to be out so early on leaving day meaning you don't get a full week) and had ample time to go to the supermarket and get the things we actually wanted and liked. I'd say if you arrive at midnight go for it, otherwise, save your money and buy your own!
They state there is a television but there are only two English speaking channels on this one and they are both news related. This was fine because we personally don't really want to watch T.V on holiday but if you have children who wake up early then perhaps you do and it wouldn't really be possible here unless you speak German.
If something doesn't work (as the air con didn't in my Mum's room and the toaster was broken in the kitchen) you have to remember that in Majorca they very much work on a manana policy. They came and brought a new toaster but it was half way through our holiday and although the batteries were changed in the remote for the air con it never really did do its job (all other rooms worked well). The down stairs room was also a little damp and musty so the window needed to be open and without that air con it wasn't the comfiest place for my Mum. When the bulb went in the main bedroom 3 days before we left I decided it wasn't going to be worth asking them to fix it as we'd have left before they arrived to replace it, things DO get done here but I wouldn't say they are a massive priority.
These things are all just quirks and to be honest it's very easy to talk about little niggles when really the focus should be on the great and the good. Which is how we came away feeling about our holiday. We were impressed with James Villas and (car hire debacle aside) we would do everything the same again!
A James Villas holiday means you can hire a perfectly vetted villa and have a private holiday without the worry of booking into an unknown. I know people rave about AirBnB and booking through owners direct but I definitely appreciated the fact James Villas know what they are approving and why. We loved the experience and highly recommend it – frankly, we can't wait to do it again!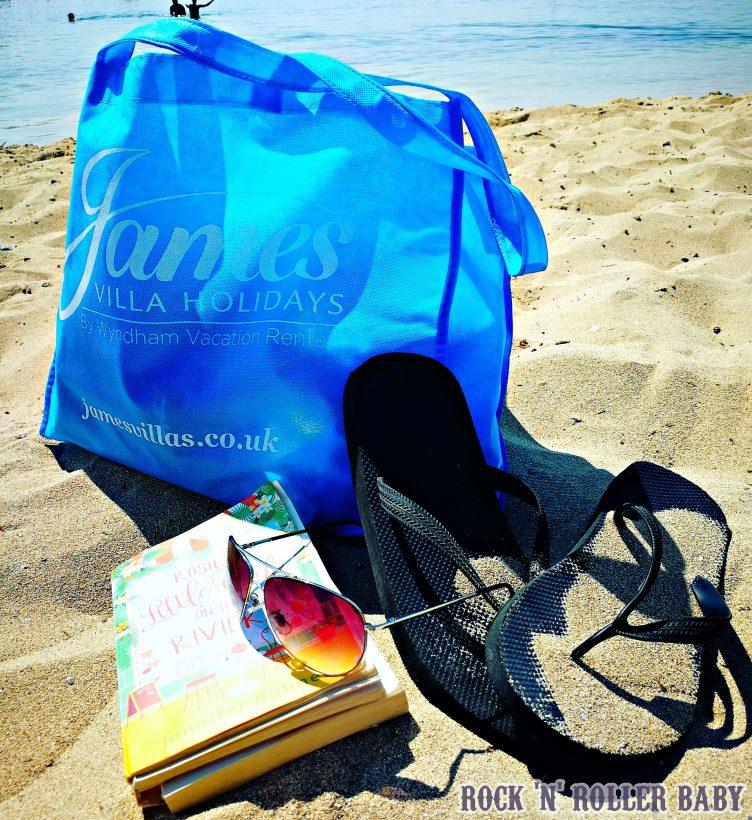 DISCLOSURE
Lastly and before I go, I want to state that I have not been asked to write anything at all of our recent family holiday with James Villas. Neither have I been compensated in any way to promote travel with James Villas, to Majorca or indeed with any other company I may have mentioned in this post.
I used social media a lot while we were on our holiday (as is my wont) and was sent so many messages asking me if I was 'on a freebie' that I felt the need to set the record straight… For starters, there is no such thing as a 'freebie'! If I were under contract with anyone to be writing this review then I would be writing in return for said 'freebie' making it not so much 'free' but, in fact, payment.
As it happens though…
For this is holiday (borrowing words from the great Peter Kaye), we 'booked it, packed it and fucked off' all on our very own thanks very much.
There was no obligation for me to write this review of our vay-cay at all. I do so regardless because I choose to and because we DID have a massively great holiday. It was one worth going on, one to shout about and one which I want to credit for many merits. I also documented the things that I feel James Villas could have and should have done differently, better perhaps, and I have done this for an honest balance which with or without contract I would feel obliged to include.
I want the record to show that this is a completely non biased review, as are ALL of my reviews whether sponsored, gifted or paid for out of my own fair pocket in sunshine, laughter, love and romance as well as good old fashioned moola. Because I'm honest like that, regardless of incentive.
I hope that you've enjoyed my review and found something you need from it. If you have any questions please do message me and I'll be happy to help. It's always good to talk to someone who's been where you are headed before you part with your money and I am absolutely happy to help!
And now I will leave you with my absolute fave snaps from our gorgeous holiday!