Tonight I am off to the opening of the newly revamped Mothercare store on Oxford Street. It's going to be terribly exciting with lots of celebrities, the biggest of whom being Father Christmas!
Myleene Klass who designs the Baby K range for Mothercare will be hosting the evening and launching their 25 sleeps to Christmas campaign! If you have little impatient ones who can't wait for the sleeps to be over then you need to keep an eye on the Mothercare facebook page! They will be having a very special calendar in the run up to the big day as well as other fun and frolics!
Traditionally people have advent calendars in December and as this Saturday will be the 30th November, bedtime will signal the first of twenty five sleeps before Christmas! I intend to make each and every one of those days magical, fun and just a little bit different to the old advent calendar we're used to! Lots of people buy special elves to come and visit until the big day and with the elves comes lots of mischief and mayhem which I just know will delight Florence and Jimmy! A friend of mine did it last year and it looked so much fun that we've decided to do something similar! Our elves are not from a shop though. My Mum has knitted them and we will keep them forever, hopefully to become family heirlooms!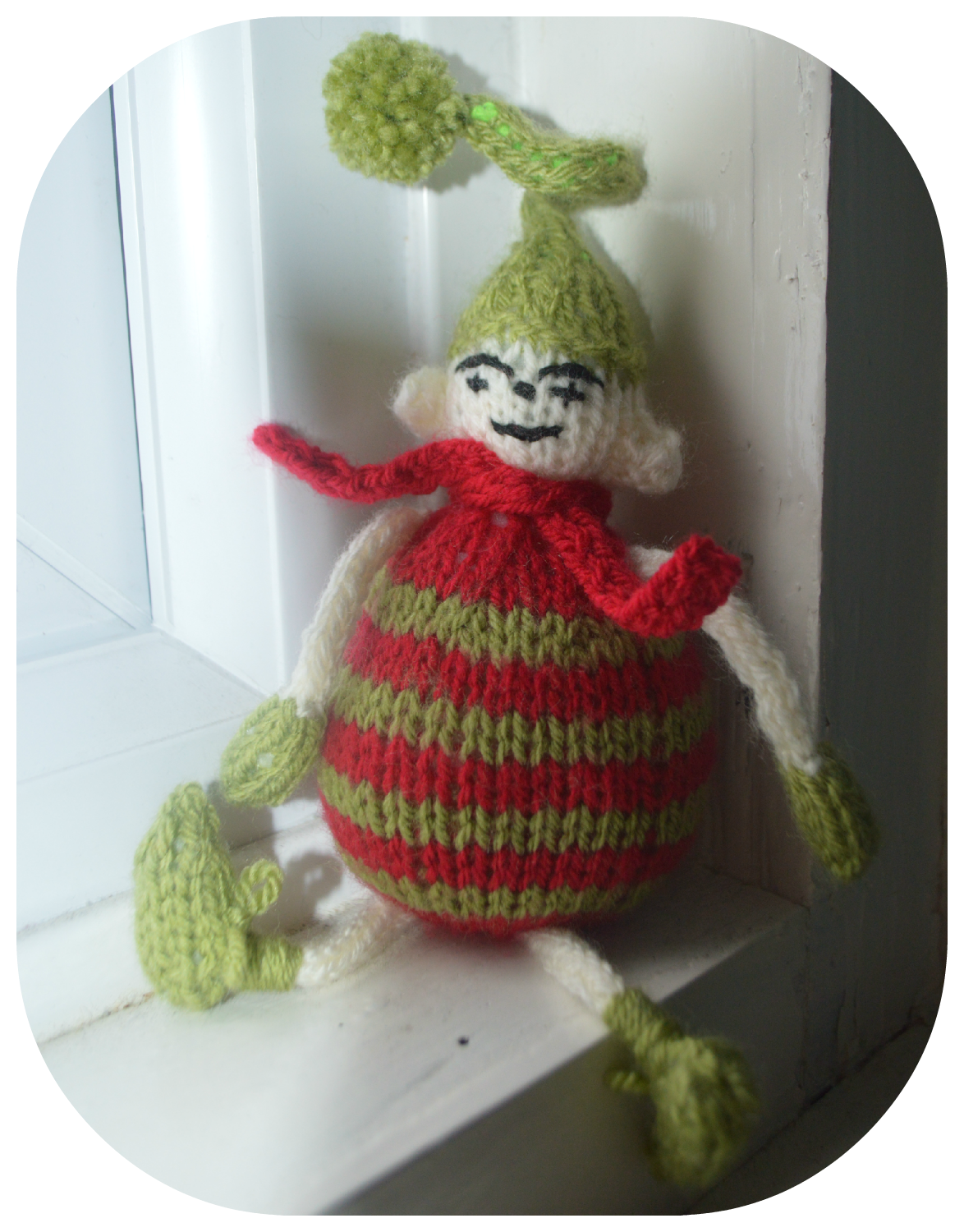 This is our boy elf, isn't he cute! My Mum knitted him using 4 tiny needles… She is soooo clever!
We are going to have a boy elf and a girl elf (who is still on the knitting needles and can't be pictured just yet) and they will arrive with a letter to the children asking them to choose some elfy names for them! They will also bring with them the advent calendars because of course we ARE still having them too!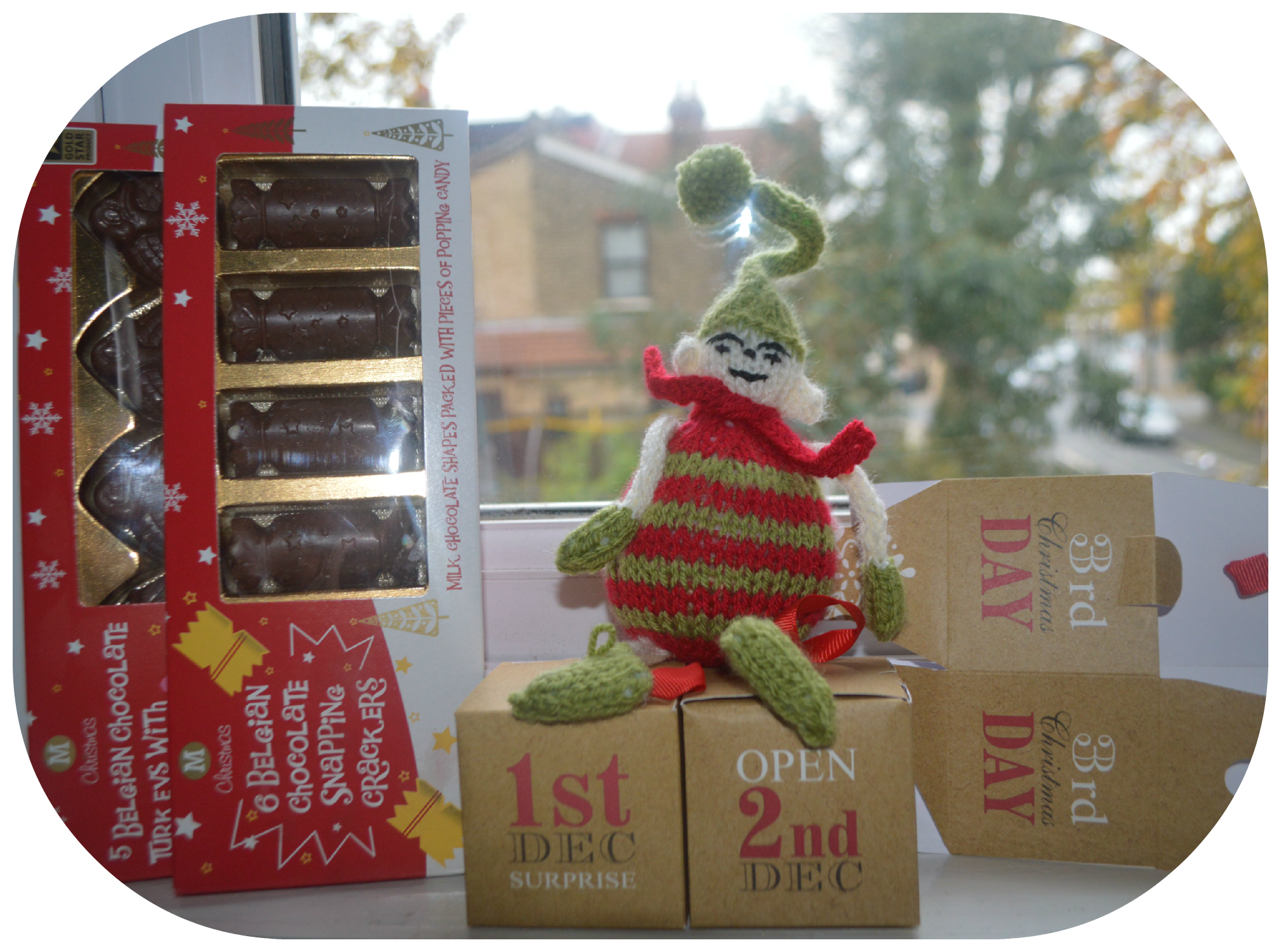 Our advent calendar this year is little boxes that I will fill with chocolates and sweets. I expect we'll gain a few more as my family are very generous and last year the children had about three each! My Mum bought these ones though and I think they're great!
Every day I am going to arrange the elves doing different things and bringing little treats. They are going to be quite naughty little elves though and will do mischievous things like turn the milk blue or leave glitter down the toilet! Luckily my friend and some of her pals started an 'Elf Frolics' Facebook page so that I can pop by there and gets tips each day and I won't have to think of the tricks all by myself! There's over 200 of us at the moment (not a company, just us Mums) and we will all share our ideas every day! We already are and I have some pretty fun things up my sleeve!
We're all doing different things but pretty much everyone it seems is going to have the elves bring Christmas pyjamas on Christmas Eve just before they depart back to the North pole. They stay only until the 24th you see as they have to go and help Father Christmas with his deliveries – don't worry though, they will come back each year! I have got the children their pyjamas from Mothercare. They are so super cute and I can't wait for them to put them on because then it will mean it's time to read 'The Night Before Christmas' and wait for our stockings to be filled!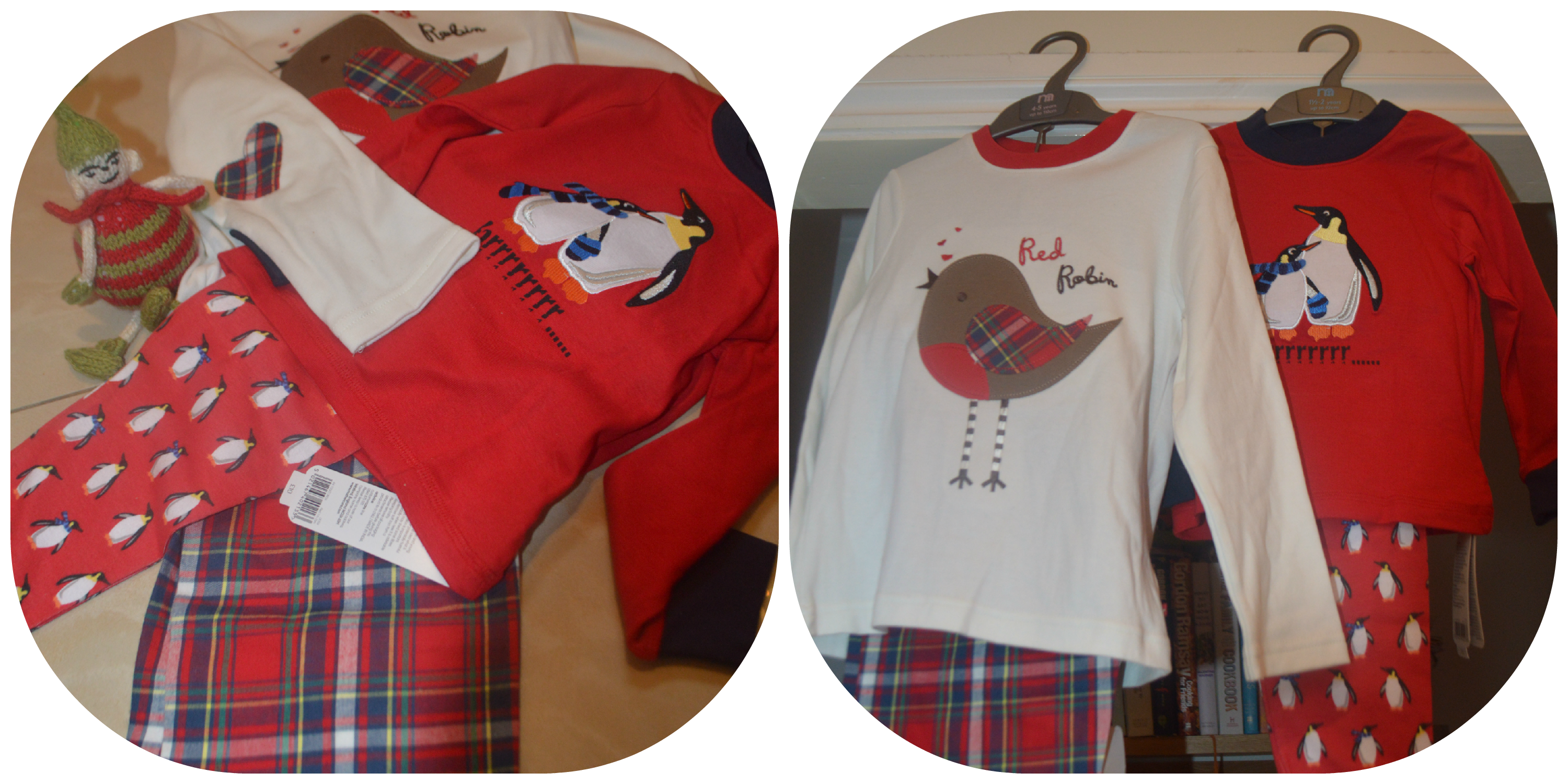 I love their pyjamas from Mothercare. Jimmy will be so pleased with his Penguin ones (£10- £11) and Florence's Robin set is gorgeous, I just adore the heart patches on the elbows!
For me the build up is the best bit! Just like a Friday morning is almost the best part of the weekend as it's still all to come, I love the anticipation before Christmas! It's so exciting and this year, with the elves, it's going to be even more awesome! I can't wait!
I'll keep you posted on what we get up to with our elves and I'll definitely keep you posted on how the party at Mothercare goes tonight – HOW exciting!
In association with Mothercare.